Oceria

Oceria's Red Coral Cave Illustration

Princess

Rune

Princess Doll

Doll

Boss
The flooded kingdom. It is said that in the past Oceria was a surface kingdom, but got sumerged by the great war caused by the Eld Witch.
Princess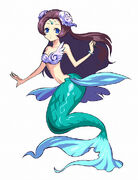 Aquell is the ruler of the flooded kingdom. She is a mermaid, and loves Loue.
Doll
Jennop (At the east of the red sea of Oceria's entrance, just walking around for hours on the red surface assures you the discovery.)

skills:

Mosalisk (At the Pirates Hideout, you get her on the way.)

skills:

Peyton (At Sea Lord Palace past the turtle puzzle.)

skills:
Princess Doll
Aquell will give you a doll of herself after defeating the Octopus in a Jar that almost digested her.
Aquell Doll (Princess Crystal at South East at the Blue Coral Cave in the Oceria's Outskirts)

skills: Giga Supra - Automatic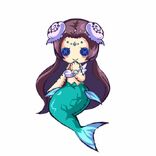 Key Items for the "Water Key"
Bosses
Weakness: Poison
Strong: Ice/Water/Fire/Plant

Weakness: 1st battle - Plant / 2nd battle - Fire / 3rd battle - Ice
Strong: Water

Weakness: Poison/Plant
Strong: Everything else than Poison or Plant
Cards
Six of Hearts: Oceria (Red Coral Cave)
Ten of Hearts: Oceria Castle (Water Hall 2nd Floor)
Seven of Spades: Oceria (Blue Coral Cave)

Queen of Spades: Card Battle in Oceria (Red Coral Cave)
King of Spades: Card Battle in Oceria (Pirate Hideout Basement 2nd Floor)
Six of Diamonds: Oceria (Sea Lord Palace Basement 2nd Floor)
Jack of Diamonds: Card Battle in Oceria (Sea Lord Palace 1st Floor)
Six of Clubs: Oceria (Pirate Hideout Basement 2nd Floor)
Jack of Clubs: Card Battle in Oceria (Pirate Hideout 1st Floor)
Three of Diamonds: Oceria Castle (Water Hall 1st Floor)
Item Location